Meet the Golioth Aludel
Meet the Golioth Aludel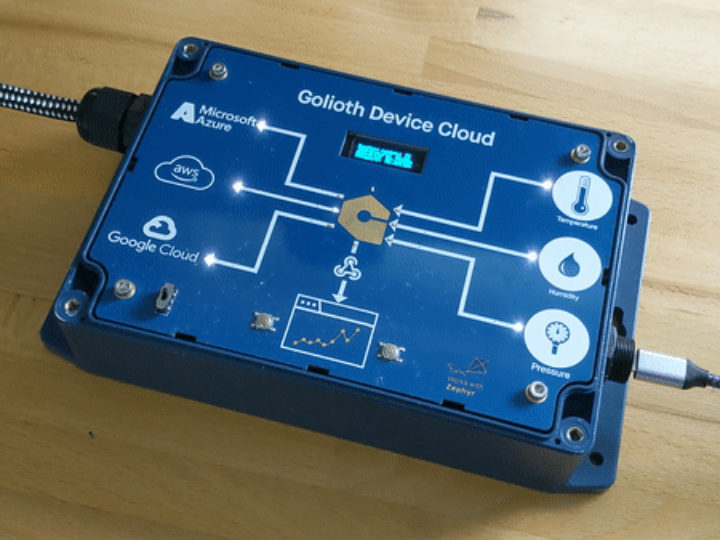 COMPONENTS Hardware components Software Apps and online services
---
PROJECT DESCRIPTION
Meet the Golioth Aludel
Golioth exists to make IoT development straightforward and scalable–that's not possible if you're locked into specific hardware, especially these days. So we designed and built a modular platform to showcase this flexibility to our customers.
Called Aludel, Chris Gammell centered the design around a readily available industrial enclosure. The core concept is a PCB base that accepts any microcontroller board that uses the Feather standard. This way, every pin-location and function is standardized. Alongside the Feather you'll find two headers that use the Click boards standard (PDF), a footprint for expansions boards facilitating i2c, SPI, UART, and more. The base includes Qwiic and Stemma headers for additional sensor connectivity, as well as terminal blocks, room for a battery, and provisions for external power.
The key customization element for Aludel is the faceplate. It's a circuit board that can deliver a beautiful custom design to match any customer request. But on the inside, each faceplate has the same interface using a flat cable connection to the base board. Current versions of the faceplate feature a a screen, an EEPROM to identify the board, and a port expander that drives buttons, LEDs, and whatever else you need for the hardware UI.
The beauty of this is that electrically, it all just works. Need an nRF52, nRF9160, ESP32, STM32, or RP2040? They all already exist in Feather form factor. Need to change the type of temperature sensor you're using? Want to add RS485, CANbus, MODBUS, 4-20 ma communication, or some other connectivity protocol? The hardware is ready for it–at most you might need to spin your own adapter board.
Now skeptics may look at the size of this with one abnormally high-arched eyebrow. But remember, this is a proof-of-concept platform. You can set it up for your prototyping, then take the block elements and boil them down into your final design. Prematurely optimizing for space means you will have many many more board runs as the parts change.
When you do a production run and your chip is no longer available, the same concepts will quickly allow you to test replacements and respin your production PCB to accommodate the changes.
Comments Write