FPGA expansion board W5500 Ethernet TCP/IP CYPRESS USB2.0 GF interface
FPGA expansion board W5500 Ethernet TCP/IP CYPRESS USB2.0 GF interface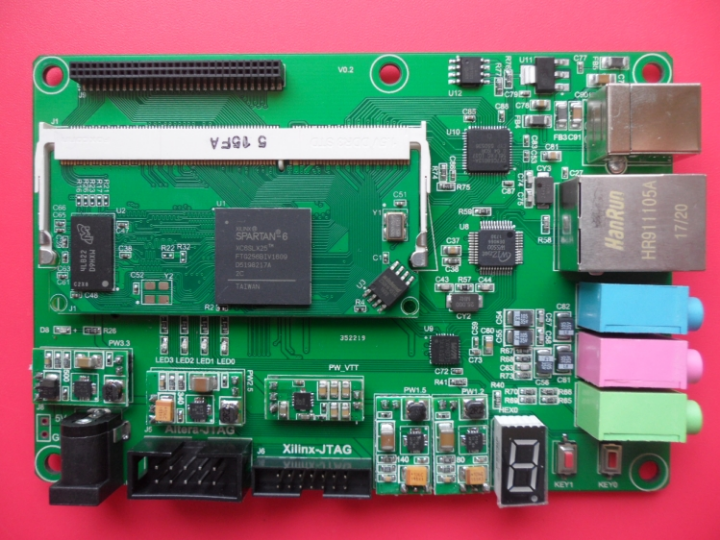 PROJECT DESCRIPTION
Expansion board front
The expansion board is docked with the Goldfinger core board (this product does not include the Goldfinger core board)
baby description
Expansion board resources:
1. The SO-DIMM-204PIN socket can be connected to various FPGA golden finger core boards in our store.
2. TI power module TPS62130, 3.3V/2.5V/1.5V/1.2V voltage.
3. TI power module TPS51200, DDR reference voltage, current sink and source (Sink and Source).
4. Support Altera and Xilinx standard JTAG download interface.
5. USB2.0 chip CY7C68013A, supports 480Mbps high-speed mode, GPIF interface.
6. Ethernet chip W5500, support 100Mbps, support TCP/IP/UDP protocol, SPI interface.
7. Audio chip WM8731, 24bit ADC/DAC, 96Kbps, IIS interface.
8. User IO expansion socket 2*30PIN.
9. 1 SD socket, 1 digital tube, 2 buttons, 4 LED lights.
Shipping list
1. One expansion board (FPGA_Expand_GF, excluding Golden Finger core board).
2. The development board information is provided by the network disk link.
https://pan.baidu.com/s/1fJxEaR4gV8JMTG-nUfx3FA Extraction code: jy67
(This link contains all the development board materials in this store, please find the corresponding catalog to download according to the keywords)
3. One DC 5V-2A power supply, several copper pillars.
Comments Write